Count 'em- 9 kids, and five in the front yard playing whiffleball and football besides!
We only had 9 for most of the day, my five plus four that we happily borrowed while their parents attend a homeschool conference today. And then another joined the crowd after school until her mom got home. And then two brothers came over to play. And then two neighbor boys joined the crowd in the yard. And then, there you are, all of the sudden 14 kids in and on and around the house.
But a good crowd it is.
And that's the story this Friday.
For more Photostory Friday, be sure to visit Cecily and Mama Geek!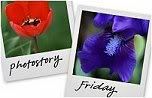 Hosted by Cecily and MamaGeek